RM 89.00
LactoFRé 1+ children plant milk formula is a good nutritional choice to assure continuation of strong growth and development. Every delectable drop of LactoFRé 1+ is made from organic embryo oat, organic millet, and organic soy. We take extra care to select only the high-quality beans and embryo oat grow without GMO in our product. This product is highly recommended for children who is having milk allergy, lactose intolerance, and constipation problem.
Legal Disclaimers: This product is certified halal.
Net Weight: 900 g/btl
Email to a friend
Description
The Most Reliable Organic Plant Milk for your Child. 
Recently, there are a lot of farms are using, hormone, antibiotic, and chemical etc. This chemical substances can harm your child and affect your child's health.
Children with low immune system can get sick easily, skin allergy, or constipation happen. Therefore, choosing correct formula milk powder you your child is very important. At the stage of 1-5 years old, choosing incorrent food for your child can affect your child's growth.

LactoFRé 1+ premium organic plant milk powder – The Great Health Protector for your Child
– Improve cow milk/ lactose allergy symptoms
– Boost immune system
– Help brain and eyes development
– Help maintain gut health
We believes breast milk is baby's best organic option. After formula feeding or breast-feeding the first year, Lactofré 1+ children plant milk formula is a good nutritional choice to assure continuation of strong growth and development.
Natural and Safe
Lactofré series products are lactose free formulation which suitable for growing children who have cow's milk allergy, lactose Intolerance or galactosemia. Organic soy, organic embryo oat and organic oat are used to provide excellent nutrient, taste, and texture; which free from sucrose, colouring, flavouring and preservative.
What is organic ingredients? 
Organic ingredients refer to plants grown in soil that have not used any pesticides and chemical fertilizers for more than 3 years and the plant is grown without using any pesticides and chemical fertilizers. The ingredients will eventually require organic certification from the country's authoritative organic certification body. Compared with ordinary plant milk or milk powder, organic plant milk is more natural, more nutritious and safer.
Organic Embryo Oat from USA, Montana 
Embryo oat is a new taste of oat; it is harvest during golden time of oats. It contains higher nutritional value than ordinary oats, which has become one of the healthy foods in world. In essence, embryo oat is higher in protein, dietary fiber and calcium as compared with ordinary oats. Therefore, it is highly recommended for children to meet their nutrient requirement daily.

Why plant-based milk Lactofré 1+ do a baby good? 
In the stage of toddler 1 to 5 years old, they are growing at rapid pace both physically and mentally. Therefore, feeding your toddler a variety of foods is essential for their healthy growth and development. Many parents may find difficulties in getting the right balance of energy and nutrients for their child. So, Lactofre 1+ is advance formulated in accordance with specific nutritional recommendations for 1-5 years old toddler.
– Rich in VITAMIN & MINERAL to support overall growth of children
– Contain DHA that enhances brain development
– Contain LUTEIN, antioxidant that protects the eyes from oxidative damage and enhances eye function
– Provide COMPLETE NUTRIENT for your child's daily requirement
– With PROBIOTIC & PREBIOTIC to maintain a good intestinal environment
Suitable for:
Toddlers from 1-5 years old
Specially recommended for:
– Cow's milk allergy patient
– Lactose intolerance children
– Galactosemia
– Vegetarian
– Constipation
– Children who usually have problem with bowel movement
Ingredient:
Organic Soybean (OKO BCS certified), Organic oat, Embryo Oat (USDA certified), Organic Millet, Soy Lecithin, DHA, Lutein, Oligofructose (FOS), Probiotic (Lactobacillus acidophilus, bifidobacterium longum, Lactobacillus paracasei, Lactobacillus rhamnosus, Lactobacillus fermentum, Streptococcus thermophilus, Lactobacillus helveticus), Vitamins [Vitamin A, Vitamin D, Vitamin C, Thiamine (Vitamin B1), Riboflavin (Vitamin B2), Niacin (Vitamin B3), Vitamin B6, Folic Acid, Pantothenic Acid, Vitamin B12, Vitamin K1, Biotin, Vitamin E], Minerals (Potassium, Chloride, Calcium, Phosphorus, Magnesium, Iron, Iodine, Zinc).
Nutrition Fact: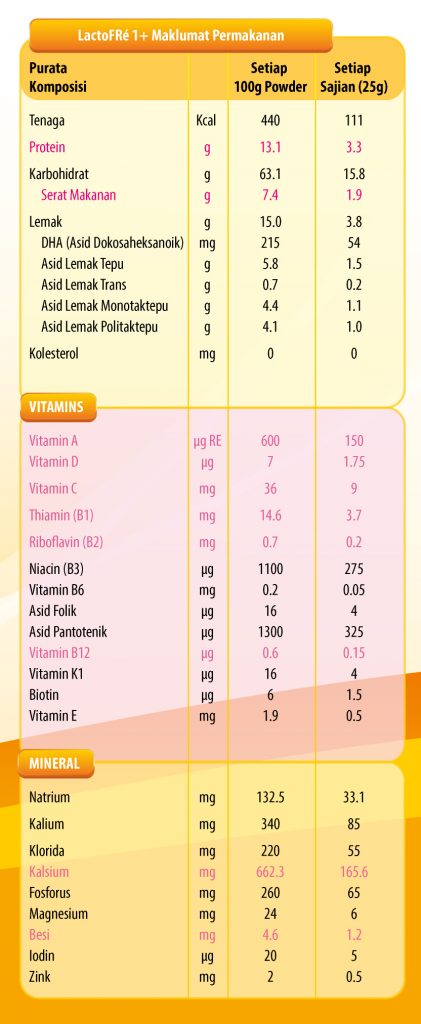 Only logged in customers who have purchased this product may leave a review.