RM 59.00
Unlock Your Potential with Height Growth.
Contains YGF-251
28 Vitamins & Minerals
4 Green SuperFoods
High in Protein & Calcium
Lactose Free
Net Weight: 420g/ bottle
Email to a friend
Description
Looking for a nutritious and delicious drink for your little one? Grow LactoFRé loaded with soy, isolated protein and 4 organic green foods is your perfect choice. It is packed with 28 vitamins and minerals plus YGF 251 (natural herb extract) so your children can achieve greater height.
– High in Protein, Calcium & Dietary Fibre
– Source of Vitamin B1, B2, B6 & B12
Key Ingredients:
YGF-251 (herb extract for growth)
– Stimulate optimal height growth in children
28 Minerals & Vitamins
– Provide a complete and balanced nutrition
4 Green SuperFoods
– Blended with organic broccoli, wheatgrass, kale and spinach
Isolated Soy Protein
– Essential for growth and development
Prebiotic (Inulin)
– Maintain good intestinal environment; improve digestive health; strengthen immunity
What is YGF-251 ?
YGF-251 is a natural herb compound extracted from Phlomis Umbrosa and Commelina Communis, the 2 carefully selected natural herb medicines out of 51 that prove highest effectiveness in increasing the production of growth hormone, IGF-1.
Health Benefits of YGF-251:
– Effectively increase the production of IGF-1 (Insulin Like Growth Factor-1)
*IGF-1 is a hormone similar in molecular structure to insulin
– Increases bone length or density
– Promotes skeletal muscle and cartilage
– Promotes neurogenesis
– Promotes children's growth
Ingredients:
Organic Soy (50%), Isolated Soy Protein (20%), Inulin, Brown Rice, Fructose, Mix Vegetable (5%) (Organic Wheatgrass, Organic Broccoli, Organic Spinach, Organic Kale), Nutrient Premix (Vitamin A, Vitamin D3, Vitamin C, Vitamin E, Vitamin K1, Vitamin B1, Vitamin B2, Vitamin B3, Vitamin B6, Folic Acid, Vitamin B12, Pantothenic Acid, Biotin, Calcium, Magnesium, Iron, Zinc, lodine, Copper, Selenium, Manganese, Molybdenum, Phosphorus, Choline, Chloride, Potassium, Chromium, Sodium), Flavoring (Vanilla), YGF-251 (Phlomis Umbrosa & Commelina Communis Extract) (0.3%).
Allergen Information:
Contain Soy.
Serving Suggestion:
1 – 3 servings daily. Add 30g of Grow LactoFRé into 160ml of warm water.
Nutrition Information: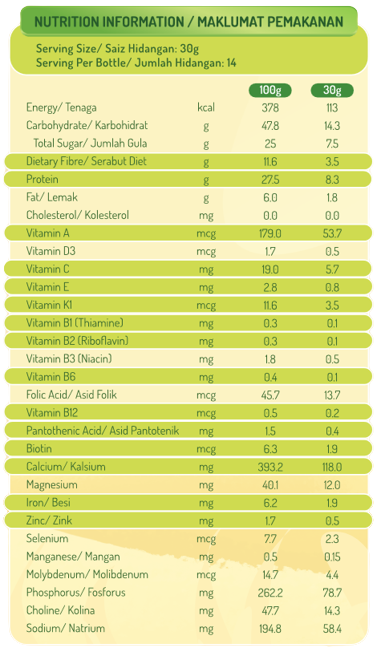 Suitable For Children (1 Year old and above):
– Eat less
– Only accept few types of food
– Picky eater
– Eat less fruit and vegetable
– Poor appetite
– Lactose intolerance
Storage:
Store in cool and dry places, avoid direct sunlight. Once opened, consume within 1 month to ensure freshness.
---
Promotion Event: A post about Grow LactoFRe, A chance to win ONE month FREE supply of Grow LactoFRe.